I-LOFAR – EXPLORING THE RADIO UNIVERSE FROM IRELAND
The Irish Low Frequency Array (I-LOFAR). I-LOFAR is the Irish station in a European-wide network of state-of-the-art radio telescopes, used to observe the Universe at low frequencies (10-240 MHz). With the award of €1.4 million from Science Foundation Ireland, the I-LOFAR consortium have built a cutting-edge astrophysics observing facility in Birr Castle, Co. Offaly, in the midlands of Ireland. This facility connects Ireland to the International LOFAR Telescope, which is one of the most sophisticated and advanced astrophysics research projects in the world. 
The integration of Irish astrophysics into such a large scale international astrophysics research facility allows Irish researchers to make ground-breaking advances in numerous fields of physics and data science, and inspire young scientists and engineers to pursue the advancement of Irish astrophysics for decades to come
Find out more at the lofar.ie website – click here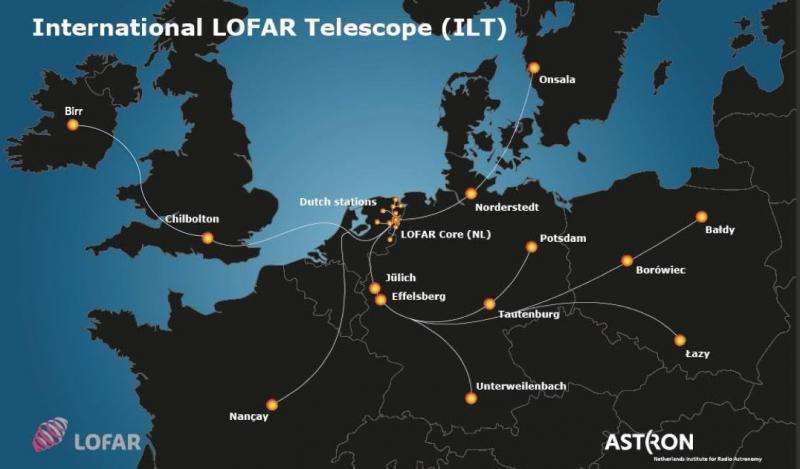 I-LOFAR is run by a consortium of Irish astrophysicists, computer engineers and data scientists, representing Irish universities and institutes of technologies from both the Republic of Ireland and Northern Ireland. The consortium is lead by Trinity College Dublin, with partners from University College Dublin, Dublin City University, Athlone Institute of Technology, the National University of Ireland Galway, University College Cork, the Dublin Institute for Advanced Studies and Armagh Observatory.
This facility allows Irish researchers and students access to a facility involved in some of the most ground-breaking and advanced research projects in modern astronomy, including projects in big-bang cosmology, deep extragalactic surveys, cosmic magnetism, cosmic rays, solar physics and space weather.